The Farrell Ranch is not only one of the first Whitetail Deer Hunting Ranches in Texas but also it is considered to be one of the best anywhere in the country!

A Texas Whitetail Deer & Exotic Game Ranch Legend
Hunting In Texas For Over 90 Years!
Started in 1926, the Farrell Ranch is not only one of the first Whitetail Deer Hunting Ranches in Texas but also it is considered to be one of the best. This Whitetail Texas Deer and Exotic Game Hunting Ranch consists of about 2,250 high-fenced acres and is located in Central Texas about 6 miles north of Meridian. Located at the edge of the rugged Cross Timbers Region, the terrain consists of scenic mountains separated by deep canyons, creeks and ravines with cedar breaks, open glades and oak groves scattered throughout, providing excellent habitat for hunting Texas Whitetail Deer, Turkey, Axis, Black Buck, Fallow and Red Stag.
The Texas Whitetail Deer management program begun over 90 years ago has evolved over the years and includes year round supplemental protein feeding and food plots to ensure that our Texas Trophy Whitetails and Exotics have the necessary nutrition to reach their full potential. Coupling this proven nutritional program with a strict management plan which restricts the harvest of our Texas Whitetail Deer and Exotics to only those animals which have reached maturity, enables us to offer truly exceptional Texas Trophy Deer to our hunters.
Experience the legend today!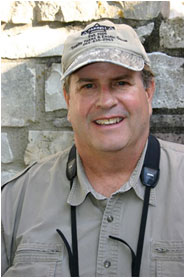 I am extremely proud of our historical ranch that is as unique as Texas. Come share it with us.
Ranch Hunting Season
October through March
May through June (Axis)
An Experience where you come first
Over 90 years of satisfying hunting
While hunting Texas whitetail deer or exotics on the Farrell Ranch, the hunting parties are kept to a maximum of four so you never feel crowded either in the field or around the hunting camp.
Hunting guests stay in a modern fully furnished, well-equipped, clean and comfortable two bedroom-two bath Ranch house with phone, central heat/air and satellite TV. Each bedroom sleeps two, and all linens and towels are furnished.
Hunting activities are typically conducted out of Texas style deer hunting blinds that have been strategically placed throughout the Ranch.
Our onsite 10' x 15' walk in cooler will ensure that all harvested game animals are quickly and thoroughly cooled down.
A 100-yard rifle range is available to sight in your gun prior to the hunt. We furnish all necessary targets, bench/shooting rests and sandbags necessary to ensure that all guns are properly sighted in for the hunt.
Great Food, Comfortable, and Unique
I have hunted Texas Whitetails and Exotics with Pat Farrell on his Texas Hunting Ranch for the past ten years and must say each hunt is truly unique
Bill – Katy, Texas